Internship is over, and I've allowed myself these last two weeks to really just try and begin to process what I experienced over nearly 4 months of teaching. That is quite the daunting task, but don't worry, I'm going to (try) to keep it succinct in this post!
What I realized even just today, is how the process of reflecting on my internship won't just happen in a day, or two days, or two weeks, or maybe even two months. It is ongoing; just as all reflection should be. I'm not going to figure out what my internship has meant to me by talking to just one person, or by writing one blog post, but I will gradually unravel it all by doing so many things all at once.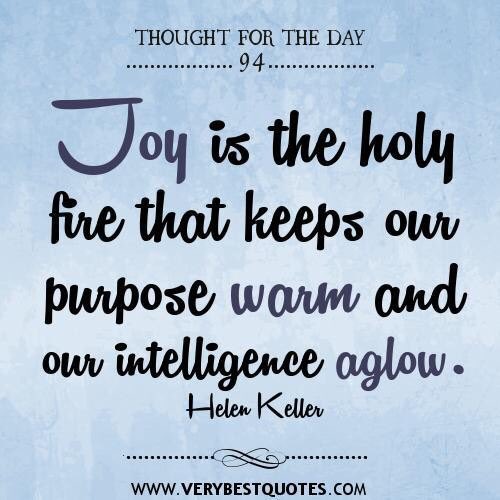 I found this quote today on Twitter (thanks @ChrisQuinn64) and I felt like it really connected to my previous post about JOY. I have been reading so many things about joy and feel like this word, this emotion, is really speaking to me. All I want to do is spread the joy of my teaching experience, and my passion for learning with everyone and anyone who will listen! I love how this quote speaks to keeping that fire burning; the engine going. For me, my mind is always spinning, and my heart leaps with joy when I stumble upon a new idea. I love unravelling those ideas with other joyful teachers and then spinning all of those beautiful ribbons into new pieces of awesomeness to share with my students.
I think the thing I will miss most these next few months is going to be the ability to actually teach my joyful ideas to students. While I have applied for (and have an interview next week for) an Educational Assistant position, it certainly won't be the same as teaching my own group of students.
That thought aside, what I really want to focus on here is reflecting on that internship experience. Looking back on the many experiences I had (I mean, I planned over 400 lessons – that's a lot!) I can really start to see why the whole reflection piece is going to take a long time, but there have been a few things that have helped me see some of the bigger picture.
The words of my students.
I loved building relationships with my students. It was such a wonderful thing to learn about their interests, how they liked to learn, how they liked to communicate, and really get a sense of their personality both in and out of the classroom. On my last day, my students presented me with a video of their goodbyes, things they enjoyed about my teaching, and advice for me. It was very cute and I had to work really hard not to cry. (I won't post it here, but ask me to see it in person!) I also received a GIANT card signed by several of the grade 5-8 students and teachers, and an individual card from each of my own students with the things they will remember most about me, and some more words of advice (apparently they don't like to write in PhysEd…?) . I read them after everyone had left, and end up in a mess of tears. It was so wonderful to read all the different things they remembered (many from back in September!), and all of the things they appreciated about my teaching. It really helped me realize that a lot of the things I put so much work into did not go to waste, and that often it was really little things that clicked with students and just made their learning so much better.From this I am really taking the lesson that sometimes less is more. It was really all of the little fun and engaging things that really grabbed my students and enabled them to remember lessons and content months later. It also showed me how consistency really helps to create the message you want to give your students. I had so many comments related to my continued discussions about kindness, awesomeness, and making the world better. Made my heart so happy!

Talking with my friends
I have realized the power of human contact. Yes, I love all things digital (Twitter, blogs, and the like), but there's something so powerful about chatting with friends over tea, or on a car ride, or anywhere that's real and in person. I have had the chance to do this with a few of my friends over the last few weeks and it has just helped me process so much of what I have accomplished. I love hearing about the highs and lows my friends experienced, and it has helped me to get some perspective on my own experiences as well. I think through the many conversations I hope to have as I start back to university next week I will really be able to continue this reflective process.It has been through these conversations that I have really been able to establish this mirror mentality. It is great to see yourself in others, and for others to see themselves in you. There is something wonderful about how a friend can really help you see yourself and be that reflection for you. What we see in others we see in ourselves, and I look forward to my friends helping me see more.

Digital outlets
I really love my blog, I love chatting with people (who I know and who I've just met!) on Twitter, and I love reading other blogs, posts and videos to keep the learning and collaboration ongoing. Midway through writing this post, as I posted that image above, I connected with the original poster on Twitter, and then stumbled into a Twitter chat! It's crazy how this awesome pursuit of connection and reflection will just sometimes bring the right people and the right avenues right to you.Connecting online has allowed me to share my ideas with so many, to be inspired by so many wonderful educators, and to feel like I'm part of a team that is striving to help our students be amazing.
Ok, so my trying to keep this short didn't go so well. But hey, I tried!
I guess the point of all of this is that my reflection on my internship is going to be a process. I can't just put it all in a single post. I learned so many things, and I will continue to process how to use and apply the things I learned to my future lessons, units and students.
I feel like this image/infographic really does a good job at trying to give a sense of what it going on in my mind all the time about teaching! I might have to turn all of my internship reflection into one…off to figure out how to do that…